The operation Encore, the attack to Mount Belvedere till the Winter Line
From January 28 and 29 troops of the 85th and 87th Regiment relieved the 86th Regiment that lead the assault on the German line at Riva Ridge (Pizzo di Campiano, Monte Cappel Buso, Monte Serrasiccia, Monte Mancinello and Le Piagge) during the night of February 18 and 19.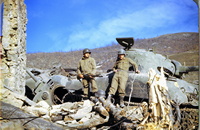 At 11pm on February 19, General George P. Hayes commander of the 10th Mountain Division sent the order for the attack, on the Gothic Line, to the three regiments. In order to achieve maximum surprise there was no artillery fire. The ground forces were supported by reconnaissance aircraft led by "Rover Joe" and coordinated on the ground by "Rover Pete". The assault of 87th Regiment developed from the departure line, near the village of Quercianella to the locality of Corona.
The 2nd Battalion turned west through the small village of Polla to Rocca Corneta.

The 1st Battalion turned on the left slope towards the summit of Monte Belvedere simultaneously the 3rd Battalion of the 85th Regiment were climbing up from the southern slope. Monte Gorgolesco was assaulted by the 1st Battalion of the 85th Regiment and Mazzancana from the 3 rd Battalion of the 86th Regiment. After breaking through the German line, the action proceeded to Ronchidoso, Monte della Torraccia on February 24, 1945, Monte Terminale in the Iola di Montese area on March 3, the small town of Pietracolora on March 4 and the hill town Castel d'Aiano was seized on March 5, 1945. The three regiments of the 10th Mountain Division held their positions on Monte Grande d'Aiano and Monte della Spe for the following two weeks
April 13 1945 where they launched their final attack on what remained of the Gothic Line, the last German defensive line before the Po Valley. During the second half of March and the first half of April troops were rotated between Camp Tizzoro in the province of Pistoia and Montecatini.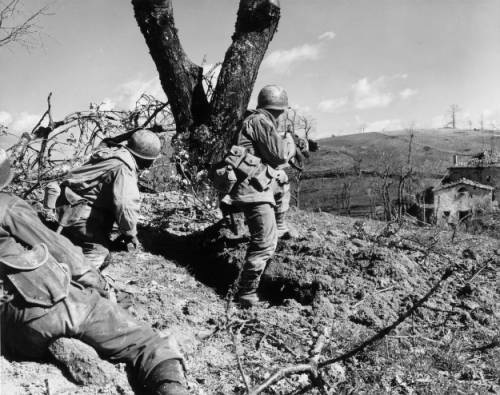 The Spring Offensive started on April 14, 1945 and liberated the towns of Rocca Di Roffeno, Tolè on April 16th, Monte Pastore and Savigno.
The Via Emilia, a large and long northern roadway, was crossed between the cities of Modena and Bologna in the vicinity of the small town of Ponte Samoggia following through the towns of Nonantola, Bomporto and on to Bastiglia, which was reached on April 21.
Over the days of April 23 and 24 the three regiments of the 10th Mountain Division crossed the Po River near Governolo.

On April 25 they took control of Villafranca airport of Verona and the city itself. On April 26 the troops reached the southern shores of Lake Garda, which they then followed to the town Torbole arriving on April 30.