April 13 1945 where they launched their final attack on what remained of the Gothic Line, the last German defensive line before the Po Valley. During the second half of March and the first half of April troops were rotated between Camp Tizzoro in the province of Pistoia and Montecatini.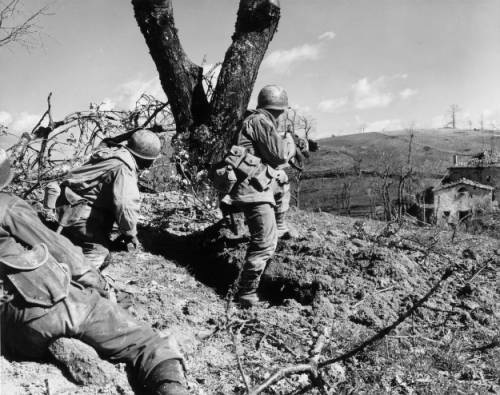 The Spring Offensive started on April 14, 1945 and liberated the towns of Rocca Di Roffeno, Tolè on April 16th, Monte Pastore and Savigno.
The Via Emilia, a large and long northern roadway, was crossed between the cities of Modena and Bologna in the vicinity of the small town of Ponte Samoggia following through the towns of Nonantola, Bomporto and on to Bastiglia, which was reached on April 21.
Over the days of April 23 and 24 the three regiments of the 10th Mountain Division crossed the Po River near Governolo.

On April 25 they took control of Villafranca airport of Verona and the city itself. On April 26 the troops reached the southern shores of Lake Garda, which they then followed to the town Torbole arriving on April 30.