Establishment and training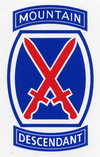 The 10th Mountain Division was officially established on November 6, 1944 and was created from the previously named 10th Light Division, which was activated at Camp Hale in Colorado, on July 15, 1943.
The 10th Mountain Division was made up of expert skiers and mountaineers, who finished their training at Camp Swift in Texas. It was made up from three infantry regiments (85th, 86th and 87th) each of which contained three Battalions comprising of A and M companies. Other than the infantries three field artillery Battalions were still included (604th, 605th and 616th), a mountain infantry antitank Battalion made up from the 727th machine gun Battalion and the 576th antitank battery.

The fighting forces were supported by a medical Battalion made up of four medical companies and a vet, as well as the cavalry reconnaissance troop, the 110th Signal Corps and the 126th Engineer Mountain Battalion. During their time in Italy the 1125th Armored Field Artillery Battalion and the 178th English Lowland Medium Artillery Battalion were also attached.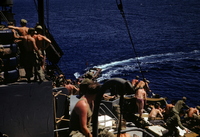 On December 11,1944, after almost two years of training, the 86th Regiment left Hampton Roads, Virginia aboard the USS Argentina destined for the city of Naples in Italy were they landed on the 22nd of December.
On January 4, 1945, the 85th and 87th Regiments left Hampton Roads aboard the USS West Point destined for Naples where they landed on January 13, 1945.