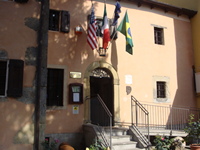 Housed in the seventeenth-century rectory next to the church of St. Mary Magdalene, is an affluent museum of 600 square meters divided into 16 themed rooms which lead you into the ancient culture of the mountain way of life through the reconstruction of domestic scenes and crafts.
     Objects, documents and testimonies tell of the area and its history over the centuries up to the Second World War, to which an ample section has been dedicated, distributed in 4 rooms that display a number of war artifacts and military memorabilia relating to the passage of the front along the Gothic Line in these areas.
    
Weapons, uniforms and everyday objects belonging to German soldiers of the Wehrmacht, FEB Brazilians and American 10th Mountain Division are on display.

     The museum is managed by the cultural association "The Trebbo" which in recent years has expanded the exhibition by restoring the old barns and cellar adding ulterior display rooms.


Website: www.sulleormedeinostripadri.it