The arrival in Italy and the entry in the front line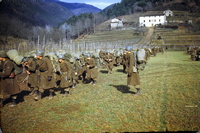 The troops were transported through Italy to the Gothic Line, first by train from Naples to the city of Livorno and then by truck to a staging area near the city of Pisa. From its staging area near Livorno, the 86th Regiment entered the front line just north of the town of Bagni di Lucca and over January 8 -9, 1945 relieving Task Force 45 in the Monte Belvedere area. They were protected on the right flank by the 1st Brazilian Infantry Division (BEF).


On January 15, 1945 the 85th and 87th regiments bivouac west of Pisa and entered the front line on January 20 in the Monte Belvedere area.