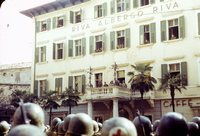 On April 28, 1945 saw the German Army in full retreat in Italy. On May 2 they surrendered.
On May 6 troops from the 3rd Battalion of the 86th Regiment met troops from the 44th American Infantry Division on the Resia Pass, in the Alps between Italy and Austria, who were heading towards Central Europe.
On May 20, the 10th Mountain Division was transferred to Tarcento, in the province of Udine, where it was to join with British troops, to prevent further westward movement by Tito's partisan, which had occupied the cities of Trieste and Klagenfurt. On July 14, however, orders were received to return to America in preparation for the invasion of Japan, planned at Kyushu on November 2,1945.
On August 6, 1945 the city of Hiroshima was totally destroyed by the first atomic bomb.
Between July 26 and August 2, 1945 the three regiments of the 10th Mountain Division left Italy for America. The 86th Regiment departed from the port of Livorno and the 85th and 87th Regiments from Naples, they arrived in America between August 7 and 11, 1945.
During the course of battles in the Italian Territory the 10th Mountain Division, which was made up of 19,780 men, suffered 975 killed and 3,871 wounded.